ART SPARKS LEARNING
Supporting art education today and inspiring the artists of tomorrow.

CONGRATULATIONS
CONGRATULATIONS
TO JOHN C. MILANESI
ELEMENTARY SCHOOL
winner of $1000
in art supplies
from

CONGRATULATIONS
to ST. JOHN'S WALHAM
GREEN CE PRIMARY SCHOOL
winner of £750
in art supplies
from pisces art
TESTIMONIALS
We recently gave each of these schools 20 artworks they love.
FALL 2013 PARTICIPANTS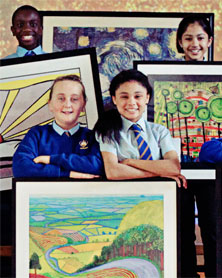 UNITED STATES

HERITAGE EXPLORATORY ACADEMY
HIGHT ELEMENTARY SCHOOL
HOPE CHARTER SCHOOL
JOHN C. MILANESI ELEMENTARY SCHOOL
PS 5 – THE ELLEN LURIE SCHOOL
WOODLANDS SCHOOL

UNITED KINGDOM

AVONBOURNE COLLEGE
NEWNHAM MIDDLE SCHOOL
ST. JOHN'S WALHAM GREEN
Schools participating in the Art Sparks Learning programme are selected based on need and interest.