subjects
art styles
sizes
Mini

Small

Medium

Large

Oversized

Giant
shapes
Portrait

Landscape

Square

Panoramic

Slim
colors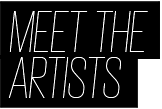 Originally born and raised in New York City, Dan Monteavaro has lived and worked in London, Italy, Korea and Los Angeles. Through all these transitions, modern media and the world of urban art have exerted a powerful influence on him. His work has appeared in numerous galleries and private collections, including the Bruce Lurie Gallery in Los Angeles and the Cheryl Hazan Gallery in New York City. 

What inspires you?

Images from mass media and comic book imagery from the 60's. I play with the familiarity of those images and the comfort that comes when looking at pixel-based art. Viewers are prompted to begin a personal dialogue when they see familiar content like that juxtaposed with something else.
Tell us about your process.

I work with oil, acrylic, inks, and canvas. It's such a complicated process in terms of timing, layers, and image adhesion. The beauty to me is more in the missing portions. I'm deeply involved; there's a communication between artist and material.


Why make art?
Like any artist, I don't think I can choose not to. I make art to think and to better understand the world around me. Art to me is a dialogue between the work, the viewer, and the artist. I'm creating a conversation that can range from private to public and ongoing. Also, I like pretty things.
Ship Time
Ship time indicates the typical number of business days it takes for your item(s) to leave our facilities but does not include transit time from our facilities to the final destination.
Orders that contain multiple items with different ship times will be shipped out based on the item with the longest ship time.
Please note: Ship time is determined based on the method of payment chosen.
This item cannot be framed
https://www.art.co.uk/gallery/id--0/prints.htm?ui=D6A8A82BE05E471ABDD38953B546809B
False
False
Filter